Plumbing and Trenching Projects
The projects listed on this page are examples of the sorts of work that we've done with General Contractors and developers. We have completed hundreds of projects since our founding in 1991.
SOME RECENT & ON-GOING PROJECTS
SCHOOLS
Corona Del Mar High School - Science Building -- Renovation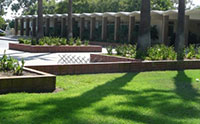 We provided both trenching and plumbing for a renovation of the science building, including renovated bathrooms and a new storm drainage system.
Cerritos College - Aquatic Center - New Construction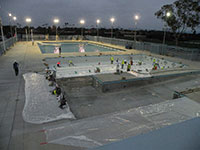 We installed bathroom fixtures and plumbing for gas, water supply (hot and cold), site drainage, and sewage for the aquatic center poolhouse. When bathroom fixtures, as specified, proved inappropriate, we made adjustments with the project engineers.
In addition, we trenched two 15-foot drainage pits for the pool and hired and directed a crane to place backwash and clarifying equipment into the drainage pits.
El Camino College - Bookstore -- Renovation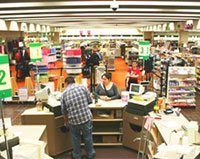 This project is in progress. In the first phase of the bookstore renovation, we did plumbing demolition, closely adhering to demo plans and specs. This required capping several gas lines so that we and other trades could proceed safely. During demolition and renovation, we co-ordinate in weekly meetings with the other trades.
La Mirada High School - Science Classrooms - Renovation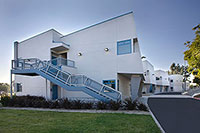 We provided plumbing for renovating six science classrooms. We installed an acid waste system consisting of piping, waste tanks, and controls. The design of the system allowed the acid waste to flow by gravity into the tanks. We provided both trenching and plumbing for a major on-site storm drain system.
John Glenn High School -- Renovation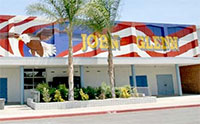 We participated in a renovation that required new plumbing for the site, including for gas, water, and sewage. We upgraded the bathrooms for ADA compliance and installed a chlorination system for water quality. Throughout the project, the school continued in operation, requiring careful phasing of our work to allow safe student and teacher access.
PUBLIC BUILDINGS
We provided ADA (Americans with Disabilities Act) Upgrades for three court buildings. As the courts needed to continue to operate, we performed all work after hours, including portions that went up into attics. Each night, when we had completed our work, we covered our projects and cleaned up so that the bathrooms could be accessed as usual during the day.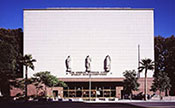 Stanley Mosk Courthouse - ADA Restroom Upgrade
Los Angeles County Courthouse in Norwalk - ADA Restroom Upgrade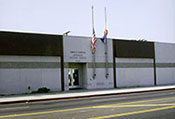 Kenyon Juvenile Justice Center - ADA Restroom Upgrade
HOSPITALS
Martin Luther King, Jr. General Hospital -- Patient Restrooms Remodel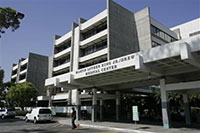 We remodeled all the patient restrooms in the hospital. The hospital was in regular operation throughout our project. This required careful coordination to continue to provide patients with bathroom access; we also needed to isolate our work areas to protect patient safety.
PARKS & RECREATION
Caruthers Park in the City of Bellflower - Public Bathrooms and Snackbar - New Construction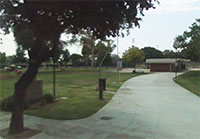 We installed plumbing lines and fixtures for new public bathrooms and a snackbar in this public park.
RETAIL BUSINESSES
The Olympic Collection Banquet and Conference Center - New Construction and Tenant Improvements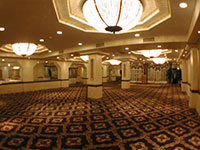 We installed the entire plumbing system for this upscale banquet and conference center in West Los Angeles. The center houses restaurants, a flower shop, a ballroom, and banquet and conference rooms. As tenants moved in, we provided tenant improvements, walling off their work so as not to interfere with other businesses already operating in the center.
CUSTOM HOMES
Custom Homes in West Los Angeles and Beverly Hills - New Construction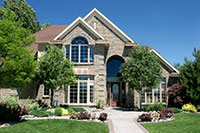 We installed the plumbing systems and fixtures for kitchens and bathrooms in over 15 custom homes (about 4,000 square feet) built by a single developer. Please see the Letter of Recommendation given us by the developer, Carolyn McCown & Associates.